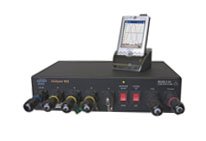 The Unipower Unilyzer 902 is a high performance instrument for simultaneous disturbance and norm compliance measurements. The Unipower Unilyzer 902 includes all necessary hardware and software for true three-phase measurements, including voltage quality parameters such as unbalance (IEC 61000-4-30), harmonics (IEC 61000-47) and flicker (IEC 61000-4-15). 
The Unipower Unilyzer 902 offers simultaneous disturbance capture down to 1 µs. The casing is rugged and IP65-classed, making it a perfect companion for field analysis in harsh environments.
The Unipower Unilyzer 902 hardware/modules
Unilyzer 902 D meter –  IEC 61000-4-30 Class A reference instrument. Power and demand analysis. A complete IP65-classed 8-channel data acquisition system for stand-alone operation. Includes basic software for measuring voltage, current, frequency, power (active, reactive and apparent), energy (active and reactive), power factor and cos ϕ. 4 MB high compression data storage (equalling 20 days of simultaneous EN 50160 and disturbance operation).
Module EN: Harmonics (IEC 61000-4-7), Unbalance (IEC 61000-4-30) and Flicker (IEC 61000-4-15)
Module PQ: Advanced PQ and disturbance analysis (1 µs)
Not exactly what you are looking for? Contact us with your exact requirements, we're happy to help.