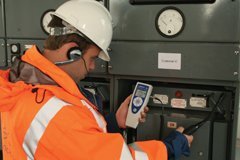 Partial Discharge Testing Service
Powerpoint Engineering Ltd?provide an on-site Partial Discharge Testing Service on Medium Voltage switchgear & equipment. This service is carried out using the latest non-intrusive PD Test equipment from EA Technology (UK)
Over 85% of disruptive failures in medium voltage?(MV)?& high voltage (HV) equipment are Partial Discharge related. Once PD activity starts it inevitably leads to failure.
With over 25 years experience in working on Medium & High Voltage equipment, our Partial Discharge (PD) Testing Service uses the latest technology from EA Technology. Our PD testing service requires no shutdown and is an ideal way to plan maintenance, repair or replacement activities in a cost effective and efficient manner.
Following the PD survey a comprehensive report is issued, listing any problems found and corresponding recommendations.Please contact us for further information and prices.
Not exactly what you are looking for? Contact us with your exact requirements, we?re happy to help.