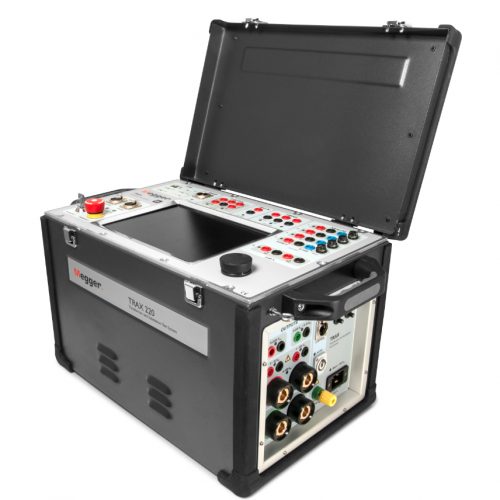 Megger TRAX Transformer and Substation Test System
TRAX is a multi-function test system for transformer substation testing. The test system replaces numerous individual testing devices which makes testing with TRAX a time saving and cost effective alternative to conventional measurements using separate instruments. TRAX is a unique test system for testing power, distribution and instrument transformers, as well as a variety of other substation components.
Providing up to 800 A (TRAX 280) and 2200 V (2000 A and 12 kV with accessories) with a frequency range adjustable from 5 Hz (1 Hz with tan delta unit) to 500 Hz, TRAX can be used with an integrated touch screen or external computer device with web browser.
Variable levels of voltage and current can be generated and measured with high precision, allowing TRAX to be used for a wide range of applications such as turns ratio, excitation current, winding and contact resistance, impedance, tan delta/power factor testing and various primary tests for LV, MV and HV electrical apparatus including but not limited to: Power & distribution transformers, Instrument transformers, Bushings, LV, MV and HV circuit-breakers, Busbars, Protection relays, Grounding systems
Winding resistance and tap-changer testing
100 A/50 V compliant, Tap-changer control
Adaptive demagnetisation of transformer core function
Dynamic resistance measurements
High-voltage ratio measurement (250 V and 2200 V outputs)
Switch-box for 3-phase/6-winding measurements (optional)
12 kV tan delta (power factor) and capacitance testing (optional)
Individual temperature correction, Automatic voltage dependence detection
CT and VT testing, 3-phase circuit-breaker analyzer
Main and resistor contacts, Motion LV circuit-breaker timing
Automatic measurement of substation battery voltage and coil current
Relay testing Timer applications, Phase-angle meter
Earth impedance testing, 4-channel power multimeter
Built in oscilloscope
Not exactly what you are looking for? Contact us with your exact requirements, we're happy to help.