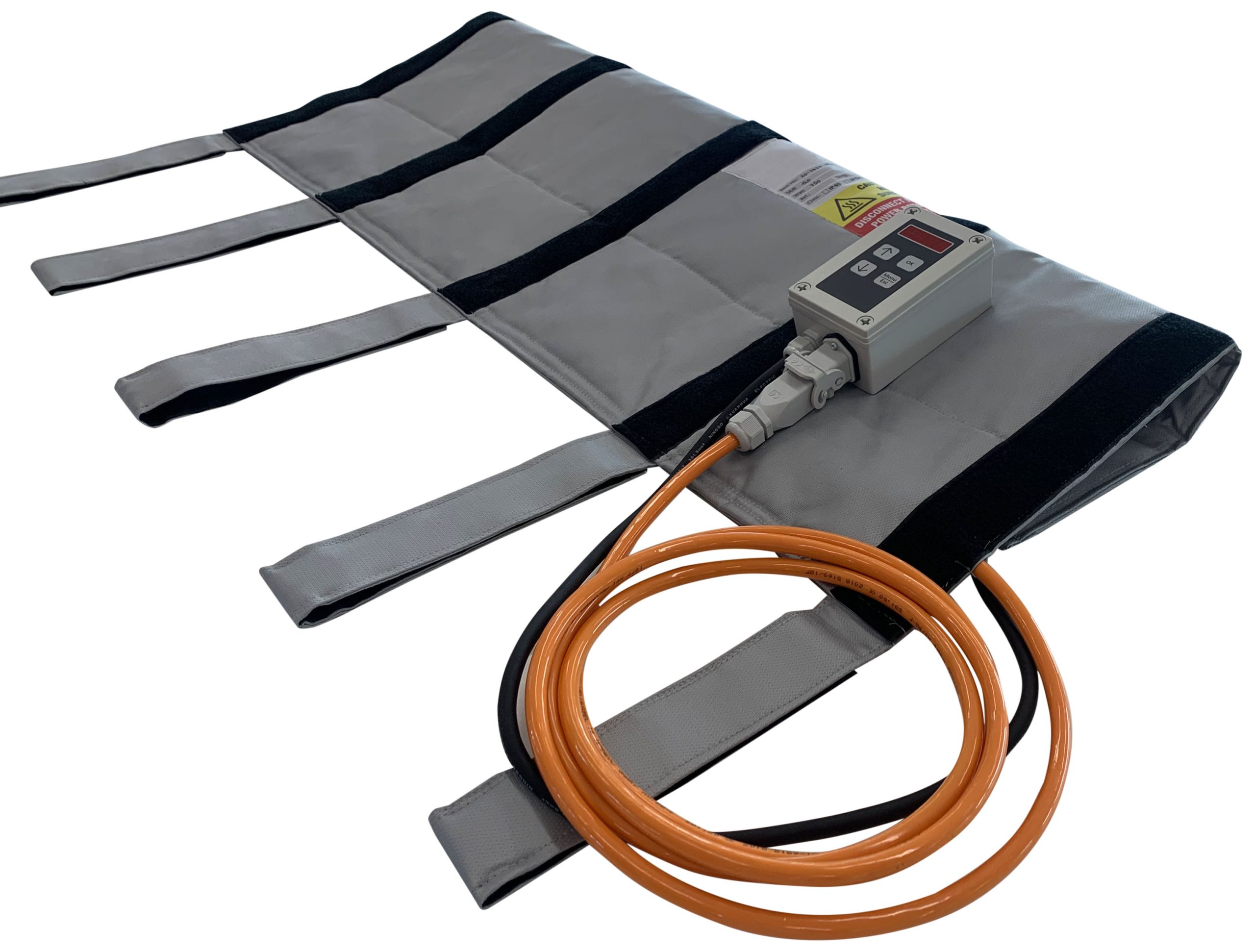 Kuhlmann Heating Blankets For High Voltage Cables
SKU: 20-2850, 18-2574, SKU: 20-2851, 18-2573
Kuhlmann Electro-Heat offers heating blankets that are great for straightening and relaxing high voltage cables used in the power utility and renewable energy sectors.
These blankets are handy for extra high voltage and high voltage power cables. Their main job is to make the cables straight before connecting them. You can mix and match different blanket sizes to fit various cable dimensions.
The blankets are easy to control using a built-in sensor that's connected to an adjustable temperature controller. The controller shows the temperature digitally, and you can get heaters and controllers in both 230V and 110V.
Our heating blankets come in different shapes and sizes. If you can't find the size you need, just reach out to us, and we can make custom blankets for you.
| | | | |
| --- | --- | --- | --- |
| SKU | Volts | Watts | Length |
| 20-2850 | 120 Volt | 750W | 1M |
| 18-2574 | 120 Volt | 1500W | 2M |
| 20-2851 | 230 Volt | 750W | 1M |
| 18-2573 | 230 Volt | 1500W | 2M |
Technical Specs:
Made of silicone-coated cloth.
Has fiberglass insulation to keep the heat in.
6mm insulation for minimal heat loss.
Uses a special heating cable.
Includes a sensor for temperature control.
Has safety features like a limiter at 100ºC and a termofuse at 130ºC.
The blankets can be up to 2 meters long.
You can get them with an adjustable digital temperature controller.
They come with straps for easy installation.
We have many sizes in stock and can make special sizes upon request.
This product is perfect for:
Straightening out cables.
Especially high voltage cables.
Relaxing cables.
Curing epoxy joints after they're made.
Joining high voltage cables.
It's used in the construction industry and other similar fields.
Working Temperature: The heating blankets work between 0-90ºC, and they maintain the temperature within about 5ºC.
Environment: These blankets are rated as IP55, which means they are resistant to dust and water. They work well in temperatures ranging from -10ºC to 40ºC.
Power: You can use these blankets with either 120V or 230V power sources. They come in two power options: 750W and 1500W.
Dimensions: The blankets are designed to fit cables with a diameter between 60mm and 160mm. They have a length of 625mm and come in two width options: 1m and 2m.
Part Numbers (for different voltage):
For 120V:

Controller: 19-2728HVC
1m 750W Heating Blanket: 20-2850
2m 1500W Heating Blanket: 18-2574

For 230V:

Controller: 19-2674HVC
1m 750W Heating Blanket: 20-2851
2m 1500W Heating Blanket: 18-2573
Material: These blankets are made from silicone-coated cloth with 6mm thick fiberglass insulation. The total thickness of the blanket is around 8mm when not compressed.
Safety:
They are built with tough, high-temperature materials.
They have a PT100 sensor for temperature control.
There's a safety thermostat that cuts off at 100ºC.
A thermal fuse is included, which triggers at 167ºC.
They have a 16A current fuse for electrical protection.
These blankets are rated as Electrical Protection Class II.
Heating Times: Here's a rough estimate of heating times when using a 2000mm heating blanket:
For additional clarification, you can use this table as a guideline to estimate how long it takes to heat up different sizes of cables using the 2000mm heating blanket.
Not exactly what you are looking for? Contact us with your exact requirements, we're happy to help.