Greenlee Speed Punch Set ISO 16- 40
The Speed Punch System is compatible with all Greenlee hand and battery-powered punch drivers.
The Speed Punch System is very quick and easy to handle as there is no screwing and unscrewing the lock nut required.
Thanks to the innovative clamp "Speed Lock" and the robust draw stud the "Speed Punch System" is up to 3-times faster than conventional punching tools. In connection with the battery-powered punch driver LS50-L FLEX the Speed Punch System is the fastest punch system on the market.
No other punching system is as convincingly simple, fast and safe. Speed Punch is suitable for mild steel, plastic and aluminium up to 3,5 mm thickness.
Suitable for
Mild steel (St37), plastic and aluminum up to 3.5 mm thick
Operation 
Hydraulic
Predrilling

Draw studs 9.5 mm, pilot drill 9.7 mm dia. 50360183
Draw studs 19 mm, pilot drill 20.5 mm dia. 50344030

Scope of supply
Complete system consisting of draw stud, speed lock, punch and die in 5 sizes including plastic case 
Product Alternative: Greenlee Speed Punch Set ISO 16- 63
It´s as simple as:
| | | |
| --- | --- | --- |
|   |   |   |
| Slide die and punch onto draw stud.  |  Secure Speed Lock onto draw stud. | Punch hole. Save time and money every punch!  |
Speed Punch System has following features: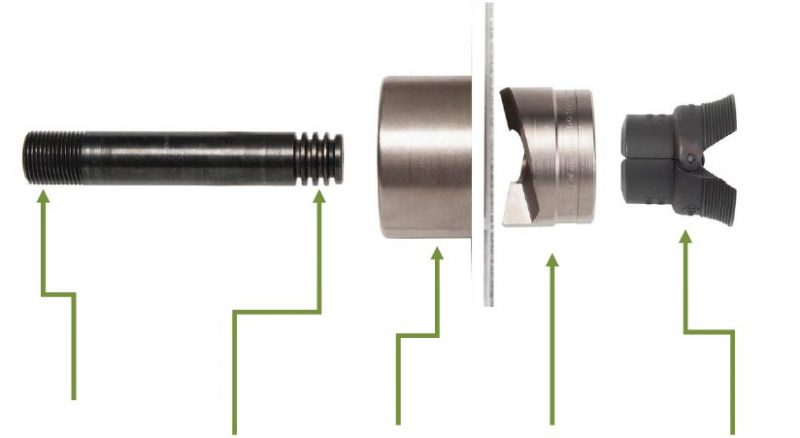 Characteristics
Standard draw stud end ¾" (19,0 mm). 
Rugged, durable grooves hold up on the job 
Matched die heights eliminate need for additional spacers. 
"No-thread" punch design quickly and easily slides on/off draw stud. 
SPEED LOCK mechanism quickly secures the entire system in place. 
Benefit 
Works with your existing hydraulic and battery-operated punch drivers 
No more thread damage and costly down time. 
Fewer extra parts to lose on the job site. 
The fastest punch system on the market today 
Punch more holes in less time. 
SPEED PUNCH System from Greenlee
The Greenlee SPEED PUNCH™ System saves time and money on every hole, view demonstration below
Not exactly what you are looking for? Contact us with your exact requirements, we're happy to help.