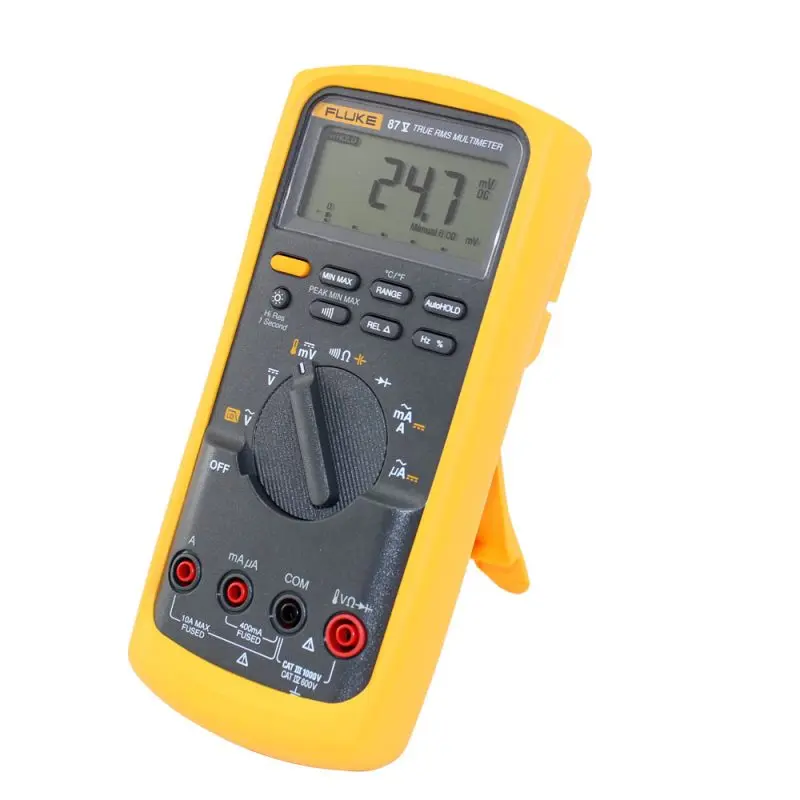 Fluke 87 V is considered to be one of the best general purpose multimeters on the market
Appreciated and liked by the Industrial Technicians all over the World, the Fluke 87 V is a tool of choice for many of them. Enhanced with advanced features the Fluke 87 V is an unique multimeter. The spectrum of its uses is very wide. From general troubleshooting to advanced functions like the low pass filter for measuring in electrically noisy environments such as the adjustable variable speed drive motors. This is the first multimeter capable of accurately measure variable speed drives each time. Dedicated shielding isolates the readings from external interference and noise. Thanks to the peak capture function it is now possible to detect intermittent problems and transients in very fast time of 250 micro seconds (?s).
All of the above without compromising your own personal safety. For example the Fluke 87 V is equipped with audible warning against incorrect use of the input jacks. Fluke 83 V and Fluke 87 V multimeters are tested for use in CAT IV 600V/CAT III 1000V environments and are able to withstand power spikes in excess 8000 volts. Finally the Fluke 87 V is granted a lifetime warranty.
Fluke 87 V Digital Multimeter Features:
Unique function for accurate voltage and frequency testing on variable speed motor drives

Optional magnetic clip to hand multimeter during work

Large digital display with backlight function

True-rms AC voltage and current measuring capability

Low pass filter for precise voltage and frequency measurements on motor drives

0.05 % AC accuracy

6000 counts display

20,000 counts for precise measurements

Capable of measuring up to 1000 V AC and DC

Capable of measuring up to 10 A continuously or 20 A for up to 30 seconds

Built in thermometer for independent measurements (TC probe included)

Frequency measuring up to 200 kHz and percentage duty cycle

Can measure resistance, continuity and perform diode tests

Up to 10,000 ?F capacitance testing range for components and motor caps

Min/Max-Average measurement save function with Min/Max Alert to capture variations automatically

Peak capture function to secure transients as fast as 250 ?s

Relative mode to remove test lead interference for low ohms measurements

Auto and manual ranging functions

Touch Hold to capture stable readings while avoiding noisy signals

Analog bar graph for displaying fast-changing or unstable signals

Audible warning to prevent wrong use of input jacks

Sleep mode for saving battery life

Holster for leads and unit storage

Lifetime warranty
Electrical safety
All inputs are protected to the 2nd edition of ANSI/ISA S82.01 and EN61010-1 CAT IV 600V and CAT III, 1000 V. They can withstand impulses in excess of 8.000 V and reduce risks related to surges and spikes
Fluke 87 V Digital Multimeter Kit Contents
The Fluke 87 V Multimeter
TL75 test leads
AC175 Alligator Clips
Holster
9V battery (installed)
80BK temperature probe
Not exactly what you are looking for? Contact us with your exact requirements, we?re happy to help.