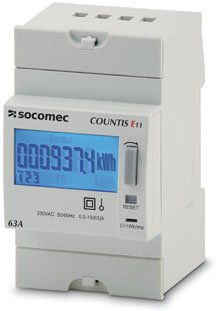 Socomec COUNTIS E10/E11/E12 Energy Meter
The Socomec COUNTIS E10/E11/E12 Energy Meter is a modular compact whole current three phase pulse output energy meter.
The Socomec COUNTIS E10 is a totalising meter allowing a direct reading of the power consumed, using a pulse output. A partial meter with reset allows the energy to be metered over a specific period.The Socomec COUNTIS E11  also offers the optionof taking two different invoicing tariffs into account. In this case, two partial meters are available. The Socomec COUNTIS E12 has MID certification, so it cannot be reset.
Socomec COUNTIS E10/E11/E12 Energy Meter specifications 
63 Amp Three phase network direct connection
Pulses outputMulti tariff (2)
MID EN50470 module B+D class B certification
Single phase;  230 V +/- 15%
Self powered
kWh total/partial
Active Power Measurement [kW]
Wrong connection indication
IEC 62053-21 cl 1, IEC 62053-11  & IEC 62053-31, IEC 61557-12
Conformity to EN50470-3 class B 
Metrological LED
Sealing cover (Included)
Size (3 modules)
Not exactly what you are looking for? Contact us with your exact requirements, we're happy to help.