For clear identification, Powerpoint Engineering can offer you customised Lockout Tagout systems, products and storage solutions. This includes in-house laser engraving, colour coding service for your safety padlocks, customised keying systems for your safety padlocks, bespoke lockout stations, customised lockout safety tags/signage and customised lockout kits.
Customised Service and Solutions
Laser Engraving
We can offer you a flexible, efficient, cost effective and customised service when it comes to your Laser engraving requirement. With our in-house Laser engraving machine, we can engrave your padlocks and key tags with the detail you require to ensure a clear and permanent identification for your Lockout/Tagout system. The identification can be a Company Logo, number, an initial, name or a combination of all.
For safety padlocks, the laser engraving is done directly to a colour coded plastic laminate which is then applied to the padlock body.
For keys, the engraving is done directly on to the colour coded anodised aluminium key tag which is attached to the key.
Colour Coding
Safety Padlocks and Keys Tags can be colour coded to the colour that is specified in your Lockout Tagout Safety Program.
The standard colours available for your safety padlocks and key tags are: Black, Blue, Green, Orange, Purple, Red, Teal, Yellow
For your safety padlock range, we can offer you a simple yet flexible customised keying system, in order to comply with your Lockout Tagout Safety Program.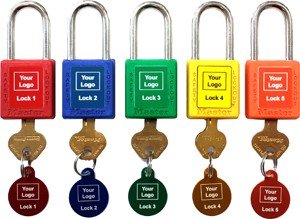 Customised Lockout Tagout Storage Solutions
Bespoke Lockout Stations
We can design & manufacture your customised Lockout Tagout Storage Station to meet your specific site requirement. Key features of our bespoke Lockout Tagout Stations can include:
Customised integrated Shadow Boards to house all your Lockout Tagout devices & safety padlocks
Fixed storage bins or removable storage Lin bins within the station.
Storage areas for Permits Books, readily available to the Authorised Persons.
Wall or floor mounted, free standing or portable.
Fully lockable Lockout Tagout Stations if required.
Shadow Boards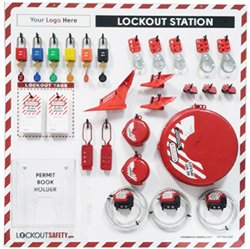 A customised shadow board is an integral part of any Lockout Tagout system. Not only does it help retain the Lockout Tagout devices within a Lockout Tagout system but it also acts as a visual aid to promote Lockout Tagout on site. Key features of our customised Shadow Boards can include:
Incorporation of Company Logo, Safety Slogans, Safety Devices & Permit Book Holders
Customised Rescue Shadow Boards to enhance your electrical switch rooms. Our Rescue Shadow Boards can incorporate LV/MV Voltage Detectors, Rescue Hooks, Insulated Gloves, Test equipment & CPR information.
Shadow boards can be made in any shape or size to accommodate the allocated wall space.
Customised Tags/Signage
Lockout Tagout Tags
We can design & manufacture customised Lockout Tagout Tags to ensure your Lockout Tagout procedure is effective. Key features of our customised Lockout Tagout Tags can include:
Tags can include Company Logo, Safety Statement, Procedure Number, Employee Number, Photo ID, Equipment ID
Tags can be designed with perforations and in any shape or size.
Tags can be printed on Carbon paper, Hard Paper, PVC and 5yr year guarantee laminate.
Lockout Tagout Signage
We can design and print your customised safety signage in house to your exact requirements. Key features of our customised signage can include:
Signs can be printed on Vinyl Laminate, PVC and Corriboard
Signage can be laser engraved onto Traffolyte plastics, Aluminium & Acrylics.
All signs can be laser cut to required size.
If you have any queries in relation to Lockout Tagout, please do not hesitate to contact us on 057 866 2162 or by email.